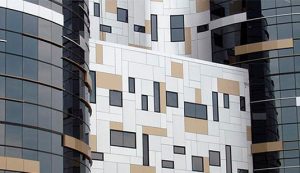 When a project calls for custom fabrication, we reach for Alpolic® Metal Composite Materials. Their wide range of products and ability to create any custom color make them a superior choice for unique architectural projects. From simple forms to complex, we can fabricate the aluminum composite panels to create the project of your dreams.
Alpolic® Composite Metals are coil-coated with lumiflon® FEVE fluoropolymer resin. Your concept will endure decades of exposure to the elements and yet still remain fresh. It is backed by a 30-year warranty.

This sheet metal brake is commonly used in fabrication to form roof caps, flashing, fascia trim, accents and other coplex forms.

Alpolic®/fr is designed for use in circumstances that require fire-retardant panels, such as buildings that exceed a minimum height. It is one of the most popular aluminum composite panels choices for exterior fire-retardant cladding.
When your project calls for strength and rigidity and you require a panel that will stand up to the most extreme conditions, the ALPOLIC®/HD is a superior choice. These heavy duty panels are 60% thicker than their standard aluminum skins.

A lightweight yet rigid panel that is highly adaptable, the ALPOLIC®/PE panel is suitable for a vast range of exterior and interior building applications.

The ALPOLIC®/RF panels have a highly polished and reflective aluminum surface. They are lightweight, thin and easy to fabricate and mount. Unlike other highly reflective panels, these aluminum composite panels are shatterproof.
GRAPHIC-AL™ panels are designed for creating metal signs used in displays, architectural signs, canopies, facia and the like.
We are The Metal Roofing Specialists
Take the first step toward upgrading your home with a long-lasting metal roof. Call us or click the link below to request a free metal roofing price quote.