Metal flashing is an integral part of metal roofing. Architectural Metals Panels is certified to meet all of your flashing needs, from simply functional to intricate applications. We use top-notch flashing materials from B & B Sheet Metal, a leading manufacturer known for their attention to detail.
Purposes of Metal Flashing
Metal Flashing plays an integral role in metal roofing. It protects your home from moisture when used to seal openings around chimneys, vent stacks and dormers. We custom fabricate flashing to accommodate any angle, profile or size. You want a snug and water-tight application for all of your homes' unique angles, joints and inside and outside corners.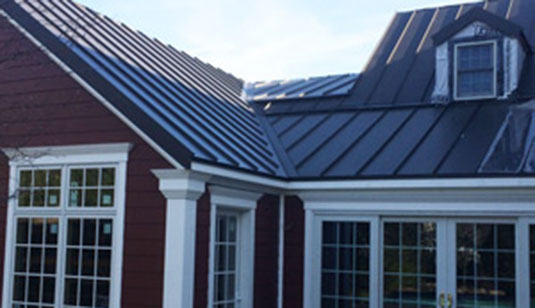 Flashing is also commonly used to divert water when there are changes in roof slope or direction valleys. Sometimes a cricket is required to divert water from chimneys.
Flashing provides thermal protection. As temperatures change throughout the day, properly fabricated base flashing and counter flashing allow roof panels to expand and contract. It also act as a seal against both unwanted penetrating air as well as against heat loss.
We are The Metal Roofing Specialists
Take the first step toward upgrading your home with a long-lasting metal roof. Call us or click the link below to request a free metal roofing price quote.